Our Team
The Pursuit of Better
At Muscle Activation Fitness, it is our goal to provide each one of our clients with the attention and assistance to enhance their well-being and fitness abilities, while strengthening their bodies and helping them grow. Because of this, we are a much more than your typical gym or personal trainer; we are a fitness and wellness company that focuses on pursuing our client's interests, utilizing the most effective methods in the industry.
Our ultimate goal is to help you thrive, and we achieve this goal by utilizing Muscle Activation Techniques (MAT) and sports performance training to objectively identify and correct muscular imbalances. Our MAT process is hand-tailored based on your specific needs, goals, strengths, and weaknesses. MAT represents the top 1% of science-based training, making us the best at what we do.
As your dedicated personal trainers, and with more than 25 years of combined experience, we pride ourselves on making a true difference that not only changes the way you look, but the way you feel. Customizing your workout to meet your body's needs, we are able to help you feel better, move better, and perform better all around.
With that, we make it a priority to get to know each one of our clients on a personal level – we hope you take some time to get to know us too. Contact us or stop by our facility in Plano today!
---
Jake Harden
Jake is the Founder of Muscle Activation Fitness, LLC, and brings over 13 years of experience in biomechanics, resistance training, and client relations. Certified as a MAT Specialist and RTS Resistance Training Specialist, Jake's ability to assess clients in search of potential muscle imbalances and weakness gives them the confidence they need to improve their strength and well-being. Pursuing your best health and wellness has always been and will continue to be Jake's number one motivation.
His other accomplishments include: 
Founder of Muscle Activation Fitness 2015
Consultant for Willow Bend Fitness Club 2015 – Present
Fitness Director of Willow Bend Fitness Club 2008 – 2015
Appointed State Trainer of Texas 2005
Founder of Harden Fitness 2004
Currently holds or has held:
RTS Resistance Training Specialist Master's Program
MAT Muscle Activation Technique Specialist
MAT Muscle Activation Technique Master's Program
MAT RX Hand and Foot
Cooper Clinic CPT Certified Personal Trainer
TPI Titleist Performance Institution
---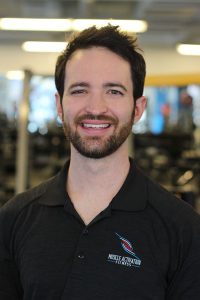 Matt Dalrymple
Matt has a desire to make you the strongest you can be.  He noticed as people grew older their quality of life went down due to unstable joints and weak muscles.  Well, he decided to do something about it.  He left Cooper Aerobics Center in 2015 to serve those who want the greatest bodies possible so they can enjoy their kids, grandkids, tennis, golf, you name it.  I want you to have an amazing life, and I am here to serve you in order to achieve it.
Currently holds or has held:
Muscle Activation Technique Specialist
Muscle Activation Technique Jumpstart Program
Cooper Clinic Exercise Physiologist
Cooper Institute Biomechanics of Resistance Training
Functional Movement Screen
National Academy of Sports Medicine
---
Noah Salih
Noah began his career as a fitness professional in 2004 and has dedicated himself to attaining knowledge to help others. Noah's methods are unique to each individual, strengthening specific muscle weakness/imbalance while increasing the range of movement and lean muscle. With Muscle Activation Techniques and intelligent resistance training, Noah wants you to look good and feel amazing as well. "Your exercise program should not create more discomfort and pain! I will enhance your body to better tolerate the stresses of life so you can excel in the activities you enjoy and feel better. Improving your physical appearance is an added bonus to intelligent training!"
Currently holds or has held:
Muscle Activation Technique Specialist Program
NASM Corrective Exercise Specialist
NASM Performance Enhancement Specialist
Cooper Institute Certified Personal Trainer
Cooper Institute Biomechanics of Resistance Training
Resistance Training Specialist 123 program
---
Paige Cervantes
Paige has been a Professional Trainer for over 15 years. She has experience in biomechanics, resistance training, and client relations. She has taught new trainers biomechanics at Cooper and taught new trainers at Telos Fitness Center. She is a licensed Massage Therapist and certified as a MAT Specialist, MATRx Foot and Hand Specialist and RTS Resistance Training Specialist. Paige is happily married for 25 years and has 2 adult children and she is a cancer survivor.
Currently holds or has held:
MAT Muscle Activation Technique Specialist
RTS Resistance Training Specialist
MAT RX Hand and Foot
ACE Certified Personal Trainer
NASM CPT
Ortho-Kinetics Trainer/Therapist (Telos Fitness Center)
Licensed Massage Therapist